Interamerican Journal of Health Sciences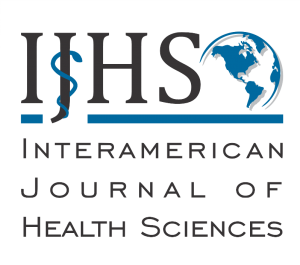 Calificación: 0.00
Última actualización: 30/09/2022 21:57 pm
Interamerican Journal of Health Sciences is the peer-reviewed scientific journal edited by the School of Medicine and Health Sciences of the Universidad Abierta Interamericana. The main objective of IJHS is to provide Health Professionals with comprehensive valued information and high-quality research related to biomedical sciences, clinical practice, and medical education. IJHS is published in different volumes a year, and the online edition is open access.
IJHS's mission is to produce, propagate, and preserve biomedical knowledge by the highest standards to improve patients outcomes and enhance medical education.
This journal prints original and unpublished contributions that meet the journal's current editorial standards.
Palabras Clave: Salud Medicina Salud pública Ciencias médicas Profesionales de la salud
Título corto: Int Jour HS
ISSN: 2953-3724
Institución: Universidad Abierta Interamericana
Facultad: Facultad de Medicina y Ciencias de la Salud
País: Argentina
Ciudad: Distrito Federal
Dirección: Av. San Juan 951 10th. floor. Ciudad Autónoma de Buenos Aires, Argentina.
Incluida desde: 2022-09-30
Periodicidad: Continua
Tipo de revisión por pares: Doble
Tiempo promedio de evaluación: 4 semanas
Estilo de citación: Vancouver
APC: No
Preprint: Sí
Política de auto archivo: Verde